Ordior
ORDIOR's Rights Management Blog
---
Tekno hasn't been sitting idly during 2021, and even before that, he hasn't stopped during quarantine either! With single after single releasing and view counts like never seen before, Tekno is maintaining his legendary status and letting the world know that his unique music is here to stay! Ordior is in his corner just like always. With Ordior supporting him, anything that Tekno creates will have its rights protected and managed. Any time any of Tekno's works encounter rights disputes, especially in the vast online space, Ordior will be here to help manage the issue and to make sure that Tekno is paid 100% of what he's entitled to. Often online royalties are mismanaged or lost, or otherwise unclaimed. Ordior is here to make sure that Tekno gets every cent of those unclaimed royalties! And with music like his, he's bound to attract quite a bit of attention. Whether they be new or old tracks, Tekno has his musical flair on lock, and you can tell when a track is his from how distinct his infectious style is. Just look at some of these new bangers!
Can you handle the hype? Even if you're just discovering Tekno now, there's no shame in it! There's no time that's too late to discover his excellent work, and these new singles and EPs are the perfect gateway pieces! But they're nowhere near the most popular work Tekno has created. That honour is reserved for a select few of his other hits, all of which have millions of plays on various platforms!
Starting off is Don't Jealous Me, with well over 6 million plays on Youtube alone. A collaboration with the one and only Beyoncé, this track was made as part of The Lion King: The Gift, a tie-in album with Disney's recent blockbuster CGI retelling of the animated classic. And Sudden, the single we had our eye on in 2020, has achieved 2 million plays on Spotify alone! And it did it in no time at all!
But as impressive as those numbers are, those are rookie numbers as far as Tekno is concerned. On just his Spotify, he has a staggering amount of plays at the time of writing, including over a million monthly listeners, as well as the astounding 42 MILLION on his song, Pana!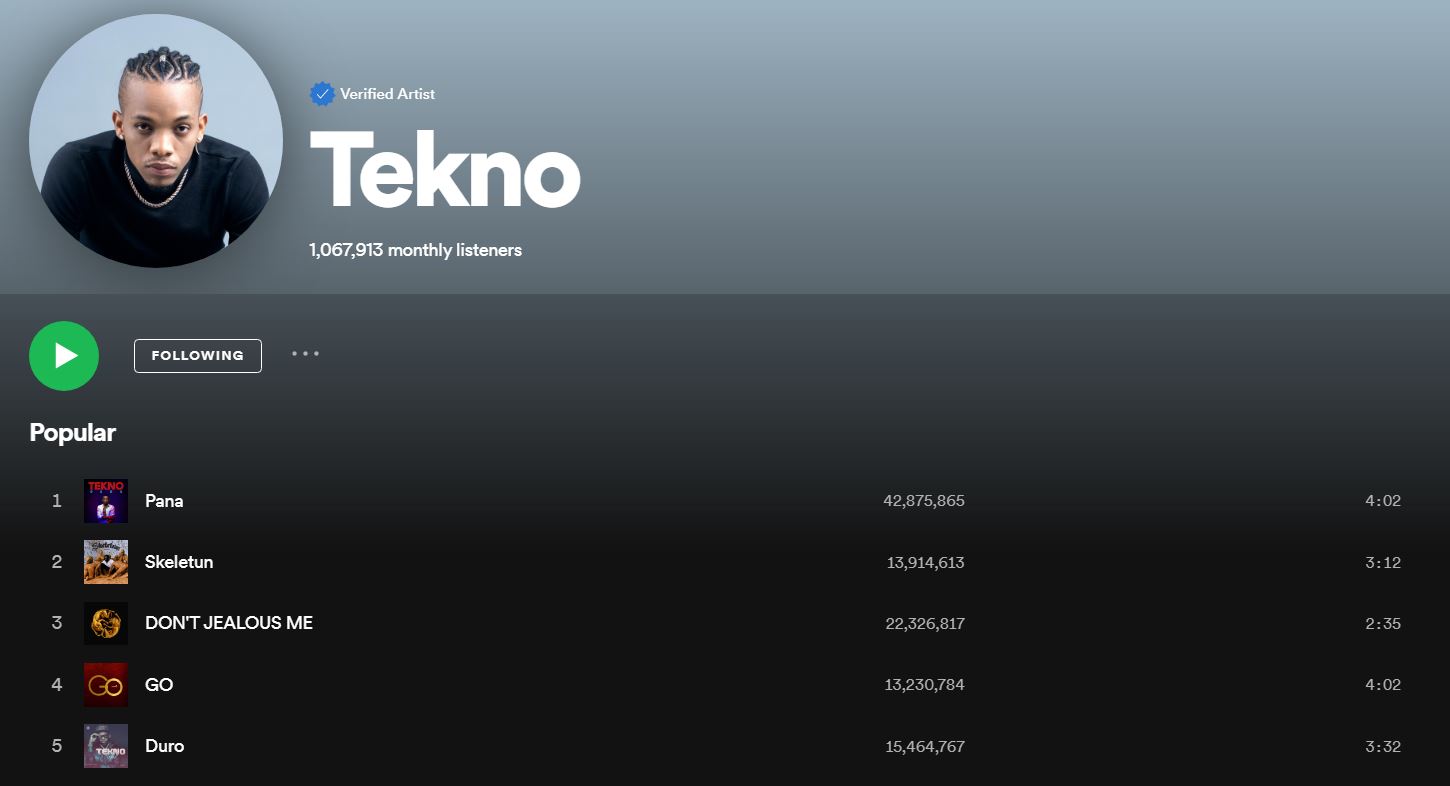 As you can see, the clout Tekno brings to the table in his music isn't just for show, and he has what it takes to back it up! Ordior has had him on our radar for the longest time, and for good reason – we've been supporting him and his musical rights for many years, and we will continue for many years to come! Talent this special deserves to be supported.
Tekno featuring on Beyoncé's amazing album is just the tip of the iceberg, and both the massive growth and consistent momentum in his popularity show that he's the real deal. There's a reason why the man has, count em, one, two, THREE different Facebook pages, and all of them have a decently impressive followerbase. It really goes to show you how impactful to the music scene he's been! If you wanted to see why for yourself, check out his links down below…
Official Links:
---

Ordior
ORDIOR's Rights Management Blog